HMIS Report Cards
Project Performance Reports
The project performance reports include all projects that participate in HMIS, and highlight different measures that HUD and the CoC have determined are important in effectively ending homelessness for the clients in Orange County.  These reports can be used to spotlight successes for the different projects, and can be used to help providers develop processes for improving performance if needed.
HMIS Quarterly Data Quality Report Cards
To view the recorded HMIS Data Quality Report Card webinar, please click here.
The data quality report cards are posted each quarter, and can be viewed for each agency and project by HMIS data element, as well as overall data quality averages by project. The report cards use the following thresholds for Data Quality depending on Project Type: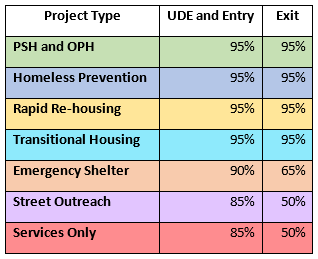 HMIS Quarterly Data Timeliness Report Cards
HMIS Entries from Coordinated Entry System
These report cards can be viewed by each PH – Permanent Supportive Housing and PH – Rapid Re-housing project, and show the percentage of clients that entered the project during the reporting period that were referred to the project from the Coordinated Entry System.
HMIS Quarterly Average Data Quality Score by Project Type
Below are the average data quality scores by project type for all projects participating in HMIS, and the data quality thresholds for each project type.  The average data quality scores were found by determining the percentage of enrollments for each project type that had a response (excluding client doesn't know, client refused, data not collected, or missing) for each data element, and averaging these percentages.