Data Matters March 2016
First Quarter HMIS User Meeting Recap
Thank you for your participation to our 1st quarter of 2016 HMIS User Meeting.  The 211OC HMIS team provided updates on the Data Quality/Transparency, Spanish translated HMIS Intake Forms, Agency Administrator Update, Agency Audit Status, New Chronic Homeless Definition, Patch Updates, Sync Snapshot, AHAR Update, ESG Exports, HIC/PIT and PSDE Adhocs.  We played an online interactive game and the top three players won a prize.    We also discussed the questions "How often do you read the Data Matters newsletter? Is there anything you would like to see added to the newsletter?" and "Do you think the quarterly report cards are useful? Do you prefer them to receiving quarterly corrections from 211OC?" and discussed as a group. To find out how much fun and learning we had at our 1st quarter HMIS User Meeting, ask one of your co-workers, or better yet come to our 2nd quarter HMIS User Meeting.
2016 HIC and PIT
All HIC and PIT forms were due to 211OC by February 10, 2016.  At this point, 89% of the HIC forms have been submitted, and of those, 11% have been finalized.  We have also received 79% of the PIT surveys, and of those, 22.5% have been finalized.  If you have not yet submitted your HIC and/or PIT forms, please submit them to hic-pit@211oc.org.

211OC is now reviewing all HIC and PIT forms, and providing feedback to the agencies.  If you receive feedback regarding your HIC and/or PIT forms from 211OC, please complete the corrections as soon as possible.  Once all HIC and PIT forms have been finalized, 211OC will email the agencies a final copy of their HIC and PIT for review.
New Chronically Homeless Determination Tool
211OC has created an interactive chronic homelessness determination tool that can be accessed on our website here. Use this tool by answering the bolded question on each page and clicking on the appropriate answer to see if your client is chronically homeless or not. If you have any questions or feedback about the tool please contact the HMIS Help Desk.
New Data Quality Report Cards
211OC has completed data quality report cards for Quarter Four of 2015 and posted them here. This quarter we have also included data timeliness report cards that show the average number of days services, entries, and exits are entered into HMIS broken down by project. We also have posted average Universal Data Element data quality scores by project and quarter so that you can monitor the changes in your project's data quality score. If you have any questions or feedback about the report cards please contact the HMIS Help Desk.
Agency Administrator Update 


211OC is no longer providing technical support to Agency Administrators that have not been certified by passing the Agency Administrator training.  As of the end of February, 37% of designated Agency Administrators have not been certified.  If you are an Agency Administrator and have not been certified, please plan to attend a training ASAP.  Training is currently being provided on a monthly basis through May.  If the training is full, please contact the HMIS helpdesk to request additional training dates.
Did You Know?
At the last HMIS User Meeting one of our users had a question about backspacing in HMIS. When you are typing in HMIS and backspace more than necessary, sometimes your browser interprets this as you wanting to press the back button, which simply logs you out of HMIS. This is a setting in your browser that you can change in your browser's settings. If you would like help changing this setting, please contact the HMIS Help Desk.
Agency Audits Begin in April 2016


We announced in the February HMIS User Meeting that starting in April 2016, 211OC HMIS team will begin agency audits for compliance to the HMIS Policies and Procedures. We will begin calling agencies in March to start scheduling the visits. If you would like to know what we will be auditing, please check for the list here.  Also, if you would like to schedule your audit, please email HMIS-helpdesk@211oc.org or call 714-589-2360.
New AHAR Corrections Schedule
211OC has generally sent out AHAR corrections to all agencies every quarter in January, April, and July. We will be sending corrections earlier so that corrections can be made before quarterly report cards are posted. You can expect to receive your next batch of AHAR corrections in mid-March. Because agencies do not currently have a chronically homeless and disability verification report available, 211OC will be including chronically homeless and disability corrections in addition to regular AHAR corrections. Chronically homeless and disability corrections needed will also be added to the Quarter One of 2016 report cards.
Patch Notes
In the month of February, our HMIS vendor made some changes to HMIS to improve system functionality. Please click here to see a list of the updates that apply to you.
Coordinated Entry Update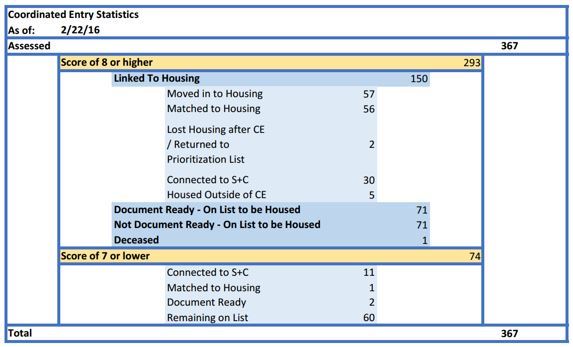 * While the large majority of these matches will continue  through the process and move to the "housed in PSH" category, for various reasons, there will a small number who do not complete the  housing  provider  intake  process,  who do not pass a private landlord's qualifications or who decline the housing, and  are  returned  to  the  Prioritization  list  to  receive  an alternate match.
During the February's Commission to End Homelessness Executive Committee, 211OC recommended the implementation of a Coordinated Entry System Steering or Procedure Review Committee. This committee would provide an interim step to validate, inform, and guide the work taking place at the Housing Placement Match meetings before a formal recommendation is made to the CoC and Commission to End Homelessness.
Some of the issues that the committee would weigh in on include how to incorporate the Family VI-SPDAT score in to the prioritization list given that they have different maximum scores; establishing a felon preference for units that accept individuals with felonies, determining the length of time an individual should remain on the Prioritization list without having contact with the Street Outreach Teams, and the addition of street outreach teams that do not have a special populations focus. The recommendation included the possible member composition of the committee to have one representative for each project type and population type: PSH, RRH, TH, ES, individual, family, and youth.
Most recently, Coordinated Entry has seen an increase in Police Department and Homeless Liaison Officer Teams. The City of Lake Forest Community Services Officer, working in partnership with South County Outreach and CityNet, took three people through the process of assessment, document ready, and matched to housing in a time period of 8 days! Newport Beach Police Department completed the required training to become a Coordinated Entry Street Outreach Team on Thursday, February 25th. They too will be working in partnership with CityNet to connect individuals to Coordinated Entry.
Upcoming HMIS Trainings:
Agency Administrator Training – 03/30/2016 – 9:00 am – 4:00 pm