Data Matters October 2014
Data Matters

October 2014
AHAR is Here!
As of October 1st, the AHAR process has officially started again. The draft for all AHAR categories is due from 211OC to HUD November 14th, and the final draft for all AHAR categories is due December 12th. If your agency receives any requests for corrections during this time period, we ask that you complete them as quickly as possible to ensure that 211OC can submit data for all AHAR categories. We thank you for your cooperation in advance, and look forward to working with you to complete this process quickly and successfully!
FY2014 CoC Application Update
The Orange County Continuum of Care released a Request for Proposal (RFP) for new Permanent Housing Projects on September 22, 2014. The RFP was released to further the ongoing work in our homeless provider community of "right‐sizing" the system to end homelessness consistent with HUD guidance and the HEARTH ACT regulations. A combined total of 14 proposals were received for all categories (Permanent Supportive Housing, Rapid Rehousing and Bonus Project –Permanent Supportive Housing) by the due date of October 6, 2014.  

In addition, all renewal projects were entered in esnaps (for HUD funding). The renewal projects and the selected new projects will be reviewed by a third party consultant. If any corrections are necessary, the agency will be notified by emails. Due to HUD's aggressive schedule, the corrections/revisions will need to made immediately. All agencies will be notified of the selection and ranking on the Priority List by Oct. 20, 2014.  The final submission is due to HUD on Thursday, October 30, 2014.  
HMIS 2014 Data Standards Training


The HMIS 2014 Data Standards came into effect October 1, 2014. This month we will have required in-house HMIS Data Standard training for all HMIS users. If an HMIS user does not attend this required training by November 7,2014, the user account will be locked until attendance to the HMIS Part I: Policies and Procedures is completed.  Please visit our training calendar to register for the upcoming HMIS Data Standards training.
Update from HUD regarding clients enrolled prior to October 1st, 2014
With the release of the new 2014 Data Standards, HUD has sent out an e-mail with instructions regarding the handling of clients that were enrolled in a program prior to October 1, 2014. The following instructions were provided:
Clients that were enrolled in a project before October 1st and are active must have their information updated based on the new 2014 data standards.
Clients that exit a project or who conduct their annual assessment after October 1st must have their information updated/collected based on the new standards.
Clients that exited a project prior to October 1st do not have to have their records updated to the new standards because the 2014 standards were not in effect at the time of their exit.
New clients added after October 1st will have to have all data collected based on the new standards.
Thank you for all of the hard work through this transition! For any questions please contact the HMIS Helpdesk.
November HMIS User Meeting Cancelled
The HMIS User meeting that was scheduled for November 5th has been cancelled. Please note the change.
How Can Your Agency Prepare for Coordinated Assessment?
During the September CA/CI (Coordinated Assessment/Centralized Intake) meeting, there was a brief mention of provider agencies learning what they can do to prepare for CA/CI, and a handout was distributed. For example, programs will have to remove barriers, review agreements and contracts with funding sources and…(click here to download the PDF to read more, click here to see all CA/CI agendas and meeting minutes).
Tips and Tricks
This month's tip is about the new 2014 data standards that took effect October 1, 2014. We highly suggest that all users take the time to familiarize themselves with the changes in HMIS, as many fields have been modified.  One example is the housing status dropdown. Almost all values have been changed for this dropdown, including Literally Homeless, which has been replaced with Category 1 – Homeless, and Imminently Losing Housing, which has been replaced with Category 2 – At imminent risk of losing housing.All HMIS Users will be required to attend training on the Data Standards (see article above).  In addition to this, we also suggest that you review HUD's HMIS Data Standards Community Training.
Agency Audit – Status Update
Since April 2014, 211OC HMIS staff has been visiting agencies that participate in HMIS to make sure that they are compliant with our Policies and Procedures. Of the 36 agencies participating in HMIS, 20 have been audited, 16 have been scheduled and 1 has not been scheduled for an audit. To view the checklist of items to be audited, please click here.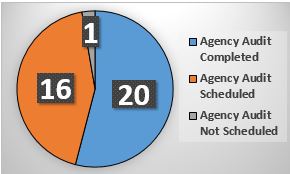 If your agency has not been scheduled for an agency audit, please contact HMIS-helpdesk@211oc.org to get scheduled. 
HMIS Patch Updates for September
In the month of September, our HMIS vendor made some changes to HMIS to improve system functionality.  Please click here to see a list of the updates that apply to you.  If you have any questions about these updates, or if you find any issues with these updates, please email HMIS-helpdesk@211oc.org. 
Dates and times for the next HMIS Beginner's Training Part I (Policies & Procedures), HMIS Beginner's Training Part II (HMIS), HMIS Beginner's Training Part III (Data Validation), HMIS Reporting Training, HMIS Data Quality Training, and Mark for Delete Training are posted in the HMIS Calendar. For more details and to register for training, please visit the HMIS-Calendar.
Please note that attending a Policies and Procedures training and Beginners training is required to receive an HMIS user ID and password, while Data Validation training must be completed within 30 days of completing Beginners training or the account will be deactivated.
HMIS Puzzle of the Month
Think you know the 2014 Data Standards? Try this month's HMIS puzzle to test your data standard knowledge.HMIS Crossword