Data Matters August 2015
2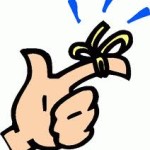 August HMIS User Meeting Reminder
This is a reminder the next quarterly HMIS User meeting is scheduled for August 19, 2015 from 9:00 a.m. to 11:00 a.m. at the Village Conference Room.  To view the agenda click
here
.  If you have any agenda items you would like discussed, please send to
HMIS-helpdesk@211oc.org
. See you there.
Changes to Data Certification Policy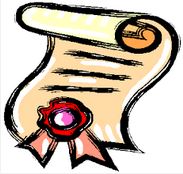 As of 9/1/2015, 211OC will no longer require data certifications. Data certifications for the month of July 2015, which are submitted during the month of August 2015, will be the last data certification collected. You are still required to ensure your data is correct. Please contact the HMIS Helpdesk if you have any questions.
Changes to Quarterly Corrections
The second quarter HMIS Data Quality corrections for 2015 will be the last set of corrections sent to you by 211OC. Instead, 211OC will create instructions for agencies to run their own corrections going forward. When the instructions are complete they will be announced in the Data Matters newsletter and linked on our website. Data quality results for all projects will be posted on OCHMIS.org on September 14th. Please remember that when emailing the HMIS Helpdesk with enrollments that need to be opened we now require all of the information listed on our
Open/Delete Enrollment form
. The HMIS Helpdesk has three days to respond to all inquiries, per our Policies and Procedures. Any requests to open enrollments that are received after 9/9/2015 are
not guaranteed
(link to last month's newsletter) to be completed before the data is pulled for posting data quality results to the OCHMIS.org website.
Data Transparency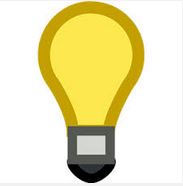 211OC will be posting data quality report cards at the agency and project level on ochmis.org starting in September. Universal Data Element report cards for quarter two of 2015 will be posted first. For subsequent quarters, all report cards will be posted publicly on ochmis.org. Report cards will be edited to omit any data elements that are not pulled due to an error with the reports to avoid the perception of low data quality where it does not actually exist.
Changes to 2014 Data Standards
On August 3, 2015, HUD released some important changes to the 2014 Data Standards.  Below is a list of the fields that have been added or modified.  211OC will be scheduling training to review these changes in the Fall, and will contact the agencies when the training has been finalized.  These modifications will be implemented in HMIS by October 1
st
.  To view the full email from HUD, please
click here
.
| | | |
| --- | --- | --- |
| Modified | 3.17 | Time on the Streets, Emergency Shelters or Safe Haven |
| Modified | 4.11 | Domestic Violence |
| New | 4.14e | Bed Night Date |
| New | 4.35a | Commercial Sexual Exploitation (Used only by RHY) |
| New | 4.35b | Labor Exploitation (Used only by RHY) |
| New | 4.44 | HP Screening Score (Used only by VA) |
| New | 4.45 | VAMC Station Number (Used only by VA) |
| New | 4.47 | T-cell and Viral Load (Used only by HOPWA) |
Reminder: Google Chrome No Longer Supports HMIS
In May, 211OC was notified that Google Chrome would stop supporting Silverlight, which is a plugin necessary for accessing HMIS, as of September 15, 2015. Some agencies are still using the temporary work around to continue using Google Chrome which will stop working on September 15th. Please use Firefox, Internet Explorer, or Safari to access HMIS.
Agency Audit Update
The 211OC HMIS team continues with the annual agency audits to ensure HMIS participating agencies including Domestic Violence comparable database certifications are in compliance with the LA/OC HMIS Policies and Procedures.  To date, we have completed 18 agency audits out of 38 agencies.  Each year, these audits are required for all HMIS Participating Agencies.  We have 4 audits scheduled for August and begun scheduling for September.   If your agency has not yet scheduled an agency audit with the 211OC HMIS team, please email HMIS-helpdesk@211oc.org.  Click here to view and download the checklist of the items to be audited.  Please ensure that all intake staff are available during the visit and all computers that access HMIS are available for review.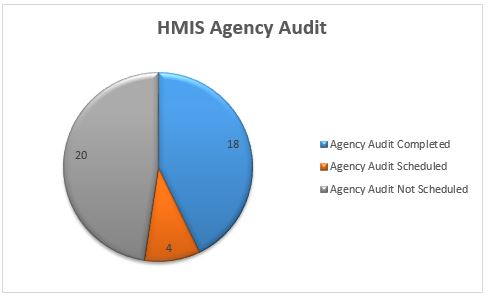 Budget Tab now Available
The Budget tab is now available on the Client Intake page!  This page allows users to enter client expenses, and determine if the client is budgeting correctly.  A report can also be run from this page that includes the expenses and budget information.  This tab is optional to use, but may be very useful for you and your clients.  If you have any questions about the tab, please contact the helpdesk.

Did You Know?
When members of a household are enrolled in HMIS together, they are considered a "group".  On the Program Entry, Manage Snapshot, and Program Exit pages, members that are part of the same group will be displayed in green.  If household members need to be added to a group, you can make the correction by following the steps below.
On the Program Entry or Exit pages: If all clients should have been in the same group at Program Entry, make the correction on the Program Entry page.  If all clients should have been in the same group at Program Exit, make the correction on the Program Exit page.  Go to the page of the client displayed in red, and click on Save in the top container.  This should allow you to select all clients in green or black.
If all clients are not displayed in green or black, repeat with the next client displayed in red.  If the correction is made on the Program Entry page, all clients will have the same Program Entry date.  If the correction is made on the Program Exit page, all clients will have the same Destination and Reason for Leaving.Manage Snapshot page: If all clients need to be added to a group during the course of an enrollment, make the correction on the Manage Snapshot page.  Go to the page of the client displayed in red, and click on New.  This should allow you to select all clients in green or black, and will create a new snapshot for all clients selected.  If all clients are not displayed in green or black, repeat with the next client displayed in red.
Example:
| | |
| --- | --- |
| Fred and Wilma Flintstone were entered into HMIS | |
| Pebbles Flintstone was entered into HMIS at a different time than Fred and Wilma Flintstone, but has the same Program Entry date | |
| On Pebble's Entry Page, she is  displayed in green, while Fred and Wilma are displayed in red | No changes may be made here. |
| Return to Fred's Entry page, where Fred and Wilma are displayed in green and Pebbles is displayed in black | |
| Check Pebble Flintstone and click SELECT | All Customers are members of the same group. |
| Click SAVE again to view Select 'Household Members' popup | All members are displayed in green. |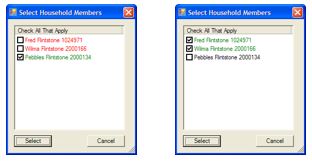 Updated HMIS Documents
Over the past couple of months, 211OC has been working with the rest of the Collaborative to update the documents below.  We are now in the final stages of review, and are hoping to release them this month.  When all documents are completed, they will be posted
here
.
Client Revocation Form
Client Consent to Release Information Form
HMIS Organization Agreement
HMIS User Agreement
HMIS Policies and Procedures
Grievance Form
HMIS Notice for Collection of Personal Information
Coordinated Entry Update
Coordinate Entry is well underway and it is important to recognize that in part it is largely due to all of the providers' participation and Street Outreach Teams support and dedication. At this point, the Street Outreach teams function as our Entry Points. We currently have four street outreach teams actively seeking chronically homeless individuals in high density areas in Orange County. Five additional Street Outreach Teams have been identified and meetings have been set up to sign agreements, discuss parameters, and training dates. Having those five additional teams on board will result in significant increases to our coverage area by mid-September. At this time we are still seeking Street Outreach Teams to cover Irvine, Laguna Hills, Lake Forest, Newport Beach, Orange, Tustin, Villa Park, and the riverbed. In the meantime, the Orange County Health Care Agency will be assisting us in those areas.
As of July 31th, the Street Outreach Teams have conducted 98 assessments. Of those 98 assessments, 70 are eligible for Permanent Supportive Housing. Of those 70, 14 are document ready. Of those 14, three were housed on Monday, August 3rd through Mercy House Living Center's Permanent Supportive Housing grant. The Bonus Project Collaborative is to house the first person by Tuesday, September 1st.
On Thursday, July 30th, a meeting for HUD Funded PSH providers was held to present the established Coordinated Entry process and begin the referral process through Coordinated Entry.
Phasing of other programs (RRH, TH, and ES) expected to begin in early January 2016.

At the National Alliance to End Homelessness (NAEH) conference last month, HUD stressed the new performance metrics and the importance of HMIS data quality. Paraphrased, William Snow from HUD said "Use data to inform everything you do. HUD requires system performance as part of ranking." He also said, "Most data to measure performance is from HMIS, and most (other than income) comes from Universal Data Elements."Later in the presentation William said if he sees you housed a lot of people but your data quality and coverage is bad, we will lose points on our grant application.
Remember that entering quality, timely data is a funding requirement.
William recommended that everyone should read
HUD's System Performance Measures
.
These performance measures will be used in the grant application scoring starting next

year,
based on
data entered this year
.
Please be sure that all management, program and HMIS user staff at your agencies are aware of these system performance measures, the importance of HMIS data quality and that these will impact HUD funding.
Diversion Definition – Quote from Katharine Gale

"Diversion: A strategy that prevents homelessness by helping people experiencing a housing crisis and seeking shelter to preserve their current housing situation or make immediate alternative arrangements without having to enter shelter."
Reasons to Implement Diversion:
– Improves system outcomes by reducing entries into homelessness
– Improves quality of life by helping people avoid the stress of shelter stays
Performance Metric – Quote from William Snow, HUD
Measure 1: Length of Time Homeless:
This is the most important one, pay a lot of attention to this.
There's a lot of incentive to house the people that have been homeless the longest.
Desired Outcome: Reduction in the average and median length of time persons remain homeless.
Homeless Youth – Quote from Nan Roman, National Alliance to End Homelessness
We also need to focus on youth homelessness. People under 18 need more support, not only by putting them into foster care. Foster care continues to be a feeder into the homeless system.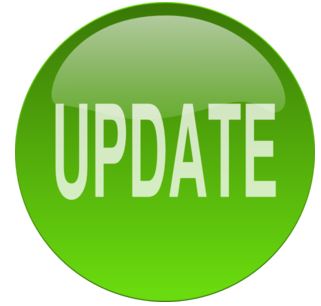 HMIS Patch Updates for July
In the month of July, our HMIS vendor made some changes to HMIS to improve system functionality.  Please
click here
to see a list of the updates that apply to you.  If you have any questions about these updates, or if you find any issues with these updates, please email
HMIS-helpdesk@211oc.org
.
211OC would like to thank you for reading the Data Matters Newsletter! Please email the HMIS Help Desk with the words "Newsletter Raffle" in the subject line and an answer to the following HMIS knowledge question to be entered into a raffle (which will be drawn at the next HMIS User Meeting):
How do you determine whether or not a new client already has an existing record in HMIS?